Music Ministry
First United Methodist Church of Gilbert offers many opportunities for singers and musicians of all ages and levels of musicianship to join its lively and varied music program.  The Music Ministry strives to provide a diverse spiritual offering.
The Sunday 8:00 a.m. and 9:30 a.m. services center around traditional music, regularly requiring the use of the organ, piano, and sometimes orchestral instruments, so as to establish an atmosphere conducive to worship and prayer. A broad range of musical styles can fall under this traditional music umbrella ranging from music of the Renaissance church through anthems influenced by the contemporary Christian movement.
The Sunday 11:00 a.m. service provides a more casual and contemporary atmosphere with a band.
There are numerous opportunities to participate or assist the Music Ministry.   All ensemble rehearsals are held at the church—some in the choir room, some in the bell room,  and some in the sanctuary—and while we have a steadily growing program of participants, we are  always looking to add to the ranks of both experienced and inexperienced volunteers.
If you have an interest in joining one of our groups in the music program or if you have any questions, please email Randy Van Der Pol,
call or email the church office (480-892-9166).
Chancel Choir
At First United Methodist Church of Gilbert we are blessed to have a mixed (SATB) choral ensemble that performs at the 8:00 and 9:30 Worship services during the months of September through June. Our Choir, averaging 35 singers on any given Sunday, enjoy singing together to assist in creating a musical presence for worship services at Christ Church and beyond
Rehearsal
Rehearsals are Wednesdays from 7-8:30pm and begin in the sanctuary.
Who is Welcome?
The Chancel Choir is open to all singers High School age and above. There is no audition required. We have singers of all levels, those with little choral background to the very accomplished with a lifetime of choral experience. This unique group is bound together through its love of Christ and the joy of making great choral music in his worship. New singers are always welcome. To sing with the Chancel Choir simply attend a rehearsal.
Concerts, Larger Choral Works and Special Events
Special performances during Advent and Holy week and throughout the year are also performed.  The the past we have performed A Festival of Lessons and Carols by John Leavitt; A Ceremony of Lessons and Carols by Anna Laura Page and Jean Anne Shafferman. During Easter, 2010, we sang Requiem by Gabriel Fauré.
The Chancel Choir takes a well deserved break during the months of June and July.  During those summer months, members from the Choir and Congregation perform as solo's or groups during the first two services.
For any questions or interest in sharing your God given talent, please email Randy Van Der Pol,
call or email the church office (480-892-9166).
Praise Band
Randy Van Der Pol and the Praise Band leads the congregation in contemporary songs of worship on Sundays at our 11 am Contemporary Service. The Praise Band features regulars and guest singers and musicians. Pictured here from left: Tim Ryan, David Dustman, Jackson Van Der Pol, Singlia Kopp, Melissa Van Der Pol, Randy Van Der Pol, Dirk Smith, Nathan Van Der Pol and Anthony Airdo. Not pictured: Chris Slayton, Sherry Clack, FredPerez, and Mark Turner.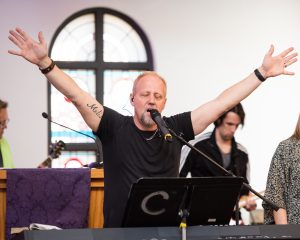 A word from Randy Van Der Pol
Contemporary Worship Leader
Q: How did you get involved in music?
I was very fortunate to grow up in a Christian home. My Mom played piano by ear, and I remember as a young child hearing her play hymns on the piano. I always felt that Music was the expression of the soul, and at a young age that was all I wanted to do. As I got older, I realized that there was nothing better than using the talents that God gave each and everyone of us for his glory and honor, which lead me into worship leading. It is very humbling that God has allowed me to be used in this way to help build his kingdom.
Q: Tell us about a significant moment in your journey to know Christ.
I gave my life to Christ at a Church camp when I was in the 8th grade. I remember it so vividly. I went down to the front, and dropped to my knees and prayed to God. I felt the Holy Spirit's power for the first time. It was overwhelming. I remember staying there for quite a while. I am certainly a "work in progress"! The one thing I do know is that the Holy Spirit has never, nor will ever, leave me.
Q: What role does music play in worship and enriching our relationship with Christ?
I feel music plays a very important role in worship. I know there are a lot of different styles of worship music: Traditional, Contemporary, Modern, and many others. I don't think God cares about what style of music we worship him with. I think what he really cares about is that we worship him with an "Open Heart."
Just as there are scriptures that come to mind when needed in difficult times of your life, praise songs and hymns can be used that way as well.
It can certainly lift up your soul! Have you noticed that it is really hard to be in a bad mood when you are singing worship songs to God?
Q: What vision do you have for the contemporary service at FUMC Gilbert?
I have a huge vision for FUMC Gilbert! I really think this service could grow tremendously. We have a great Church! My vision for the Contemporary service at FUMC Gilbert is to reach more people for Christ. The service has many intentionally "personal elements" about it. The purpose is for each person who attends to have a personal connection with Christ for all generations—Randy
For any questions or interest in sharing your God given talent, please email Randy Van Der Pol,
call or email the church office (480-892-9166).
Wesleyan Bells
Handbells were invented in 17th-century England, as a solution to a noisy problem. People living near church bell towers had grown tired of listening to long change-ringing rehearsals. The invention of smaller, quieter bells that could be rung with one hand made it possible for rehearsals to take place in the spirited warmth of pubs.
It wasn't long before people realized that handbells could be used for more than change-ringing, and people began to assemble fully-chromatic sets of bells.
Handbells were first brought to the United States around 1840, where they were popularized by P.T. Barnum as a circus attraction. Not long afterward, handbell teams went into the Vaudeville circuit. In the 1940's, people began ringing handbells in American churches.
Handbells were first manufactured in the United States in the 1960's. Today there are over 10,000 handbell choirs in North America, most of which are associated with churches.
Bells are among the most ancient of musical instruments, and have been  used in worship since the some of the earliest documentable times.  First United Methodist of Gilbert has a long tradition of bell choirs.  Our  ensemble generally rings with 9-10 bell ringers (playing Schulmerich  Bells, as well as Suzuki Tone Chimes. The Wesleyan Bells welcomes capable ringers of high school age and above.
Rehearsal
The Wesleyan Bells rehearse Wednesdays from 5:30pm – 6:30pm in the bell room (with  summers off).  They play frequently through out the year during the 1st and 2nd service and have been requested to play at funerals held at the church as well.
Nursery/child care is available upon request for Wednesday night rehearsals.
For any questions, please call or email the church office (480-892-9166).

Children beginning with age 3 meet in the Choir Room each week from 10:45am to 11am (between the second and third services) for a time of singing and praise.  we sing music appropriate tot he age of the children as we explore what it means to be a Christian.  In addition to songs by well-known composers of children's music, the children often write their own lyrics.  Every 4 to 6 weeks, the group sings "in big church" to the delight of the congregation.  The Children's Choir follows the school schedule with school holidays and summers off.
For any questions, please call or email the church office (480-892-9166).
For more than thirty years,
Martin Province
has conducted a wide range of ensembles including choirs, orchestras, chamber ensembles, and wind bands. He most recently served on the faculty at Arizona State University, preceded by positions at Iowa State and Wake Forest (NC) Universities.
His ensembles have received accolades from and premiered works by such composers as Karel Husa, Michael Torke, Frank Ticheli, David Maslanka, Charles Young, Roger Cichy, and Daron Hagen. In 1996, he conducted the Denver Concert Band at the National Convention for Community Bands in Phoenix, Arizona, and was guest conductor for the Arizona State University Wind Symphony at the College Band Directors National Association Biennial Convention in Minneapolis in 2003.
Prior to his tenure with university ensembles, he served in the public schools of North Carolina and Colorado, teaching chorus, band, and general music to students in elementary, junior, and senior high schools. His first conducting position was as Choir Director for Emmanuel Baptist Chapel (later Pfafftown Baptist Church) in North Carolina.  As a clinician and adjudicator, Province has worked with ensembles from more than 25 states and Canadian provinces.
Dr. Province holds both a Doctor of Musical Arts and a Master of Music in Instrumental Conducting from the University of Colorado and a Bachelor of Arts in Music from Wake Forest University. He was chosen to participate in the 1992 Conductors' Guild Conducting Symposium held in conjunction with the 40th Anniversary of the founding of the Eastman Wind Ensemble and was one of only four international participants selected for the conducting symposium sponsored by the World Association of Symphonic Bands and Ensembles in Hamamatsu, Japan in 1995.
As a performer, Dr. Province has played percussion with the Winston-Salem (NC) Symphony, the Governor's School of NC Symphony, and the Wilkes (NC) Symphony as well as with the Faculty Chamber Ensemble at the University of Colorado. Until recently, he was a member of the tenor section with the Phoenix Symphony Chorus and entertains – singing and accompanying himself on banjo, guitar, autoharp, and other folk instruments – at events in the East Valley. Marty also has theater experience both in the pit and behind the podium. He recently sang the role of "Enjolras" in a local production of Les Misérables and "Washball" in a Bicentennial resurrection of The Disappointment, America's first ballad opera.
Dr. Province lives in Chandler, Arizona with his wife Elice and two sons.
Any questions you might have regarding any of the programs within the Music Department, please email Marty.

Sue Hunter – Organist
Allen Organ
Featuring the unique realism of Acoustic Portrait™ and the unparalleled flexibility of Stoplist Library™, Quantum™ Organs redefine the state-of-the-art and will take your organ performance to a new level.
World-renown Allen sampling is the foundation of Quantum sound, assuring faithful sound reproduction that includes the fleeting but essential characteristics  occurring in the first and last milliseconds of a pipe's speech. Allen samples also recreate the natural random pipe fluctuations of sustained sounds without  the artificial "looping" heard in other sampling systems. And, with the world's most extensive digital library of pipe organ sounds, Allen provides choices to  satisfy every taste and need.
Allen invented the digital organ format that most closely exact realistic pipe organ sounds, through Renaissance Quantum™ digital voicing, with the capacity to retain even the most subtle nuances of a true pipe organ.
First United Methodist Church of Gilbert incorporates into traditional worship services its beautiful Allen digital three manual instrument, manufactured by Allen Organ Company, in Macungie , Pennsylvania.  Please come and enjoy the beautiful sounds that touches your heart and soul as you listen to Sue Hunter, our organist performs.