UMOM    United Methodist Outreach Ministries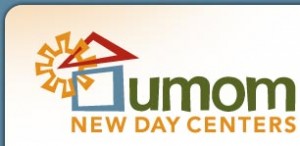 The Mission of UMOM is to provide homeless families and individuals with safe shelter, housing and supportive services to assist them in reaching their greatest potential.  potential.  Founded in 1964, UMOM is the largest homeless shelter for families in Arizona.  We keep families together, we provide a continuum of care from emergency shelter to transitional housing and finally, permanent, affordable housing.  Families at UMOM have the opportunity to gain the skills, medical care, quality child care, and education they need to rebuild their lives and succeed when they leave.
First United Methodist Church of Gilbert has had a long standing history of being involved with UMOM in different campaigns as you will see below.  Take a look and see how you can get involved in  SERVING CHRIST COMMUNITY – ONE LIFE AT A TIME.
Supply a Survivor Kit –  for the brave women who seek refuge at the UMOM Domestic Violence Shelter, all for about $20 or less.  Items for the Survivor kit will be collected all year long with delivery to the UMOM Domestic Violence Shelter in May.
Watkins Overflow Shelterserves up to 120 single women and 20 families each night.  First United Methodist Church has prepared and served dinner to these folks on the 2nd Saturday of every month for the past several years.  Become part of this team and sign up for the portion that feeds your passion:

Prepare the Meal–  Arrive at the church at 2:00pm and the menu/ingredients and directions will be there along with other volunteers from the church.  This is a wonderful opportunity for families, teens, tweens, single adults, just about everyone and have fellowship with those that share the same passion as you do.
Serve the Meal –  Arrive at the church at 4:30pm to collect the meal and drive to the Watkins Overflow Shelter in Phoenix.  Directions along with what you will do and a member from the Missions Team will accompany you and the other volunteers from the church that will be serving.

New Day Centers – First United Methodist Church performs several other activities during the year in addition to the ones listed above.  Some of the activities we have done are:  Super Bowl Sunday; Walk-a-thon; Clothes Collection.
For more information regarding UMOM and the numerous volunteer opportunities, please email the Mission Team.