The monthly newsletter at First United Methodist Church of Gilbert is called "The Evangel".  The Evangel is published the first of every month and contains upcoming activities, important dates, messages from the Pastor and  the different Ministry Teams.  This is an excellent source of information that will help you get plugged in.
Check out what is happening this month!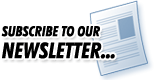 If you are not getting the message from the Church Office when the latest Evangel is ready to view, please email the Church office with your email information.
Previous Evangel Edition
2016 Editions
2015 Editions