Why We Give
God has provided us with everything that we need for abundant life.  As a token of our appreciation, we should offer a gift back.  As Jesus taught on the mount, "give and it will be given to you.  A good measure, pressed down, shaken together, running over, will be put into your lap; for the measure you give will be the measure you receive."  Luke 6:38
We give to the church as the embodiment of our Lord here on earth, to support its good works.  Giving is a form of spiritual discipline – akin to prayer, church attendance, and doing charitable works – and helps you to grow in your faith.
Note Regarding End of Year Giving
Thank you for your generous financial support of our church!  You are making a difference in more lives than you know through your giving, showing the love of Christ to children, youth and adults in countless ways.
If you intend to make additional donations to the church in 2017, please note that any mailed donations must be postmarked by December 31to be included on your 2017 giving statement.  2017 donations may also be dropped off in the church office by noon on Friday, December 29.  Of course, donations placed in the offering during any worship services in December will be included on your 2017 giving statement.
Credit Card gifts must be received by 5:00pm Friday, December 29, 2017, deadline in order to be included on the 2017 tax statement.
Giving Options – Pick What Works Best for Your Needs
There are many options to give to First UMC Gilbert!  On-Line you can give via a check or credit card, you can give via a smart phone app and just added you can give via text.  Please contact the Finance Secretary in the office if you have any questions.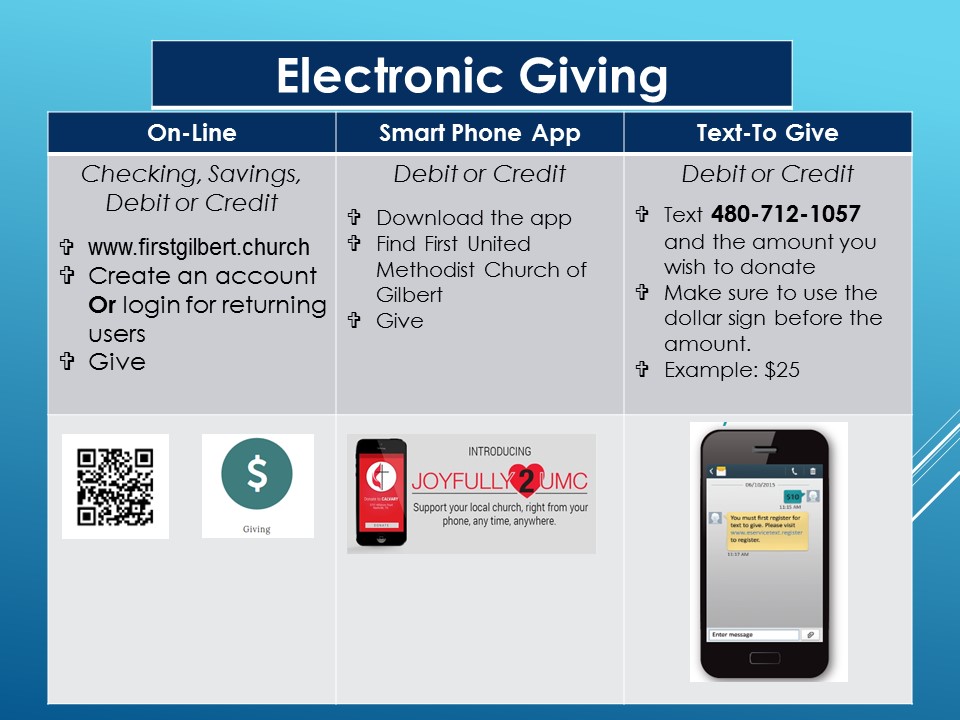 Ways to Give
Give Online
Click Here to give online
Give in Person
Sunday Worship 8:00 am,  9:30 am,  &  11:00 am
Give by Mail

331 S. Cooper Road, Gilbert, AZ  8523
As you contemplate future contributions, please consider online giving. Should you have any questions on the process, please email Taleen Carpenter or call at the church office (480-892-9166).