Why We Give
God has provided us with everything that we need for abundant life.  As a token of our appreciation, we should offer a gift back.  As Jesus taught on the mount, "give and it will be given to you.  A good measure, pressed down, shaken together, running over, will be put into your lap; for the measure you give will be the measure you receive."  Luke 6:38
We give to the church as the embodiment of our Lord here on earth, to support its good works.  Giving is a form of spiritual discipline – akin to prayer, church attendance, and doing charitable works – and helps you to grow in your faith.
End of the Year Giving
Thank you for your generous financial support of our church!  You are making a difference in more lives than you know through your giving, showing the love of Christ to children, youth and adults in countless ways.
If you intent to make additional donations to the church in 2018, please note that any mailed donations must be postmarked by December 31st  to be included on your 2018 giving statement.  2018 donations may also be dropped off in the church office by noon on Monday, December 31st.  Of course, donations placed in the offering during any worship services in December will be included on your 2018 giving statement.  Credit Card gifts must be received by 5:00pm Monday, December 31, 2018, deadline in order to be included on the 2018 tax statement.
Stock Offerings – A Note from the Desert Southwest United Methodist Foundation:
As we approach the end of the year and the busy time for gift giving, we are making the below suggestion as it relates to securities donations.
"All mutual fund gifts will be processed on a best efforts basis after December 15, 2018.  We kindly ask that you please encourage your donors to make their donations of these types of securities prior to December 15 if they wish to receive their tax credit for 2018."
We will continue to make our best efforts to ensure a smooth transfer for donors.  Please follow the instructions for stock transfers.
1. You or your financial advisor MUST provide us with the following:  Security Information: Security Name, Number of Shares, and Symbol/Ticker/Cusip.  Security Delivering Institution Information: Security delivering institution name, contact name, phone, e-mail address.
2.  Provide us with your complete name, address, city, state, and zip code so that we may send you proper IRS documentation for your gift.  In addition, please instruct DSUMF as to any designations of the funds realized after our sale of your gifted securities.
3.  The necessary information numbered on 1. And 2. above may be sent to DSUMF via e-mail(accounts@dscumc.org) or fax (602-265-1524).  All the preceding information must be received at least three business days before the expected date of the transfer.
4.  Please instruct your financial institution to transfer securities to:
DTC #0443
Pershing, LLC
For credit to account # N7M100129
Client account name: UMC Benefit Board Inc.
5.  Once sold they will further credit DSUMF who will then disburse the funds realized per your designation and send you the documentation for your gift required by the IRS.
If you, as the beneficiary, know in advance your donor's name and gift, please provide this information to us.  There can never be too much information.
Giving Options – Pick What Works Best for Your Needs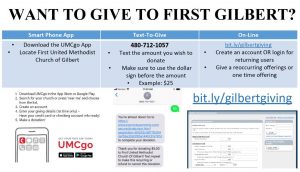 Ways to Give
Give Online
Click Here to give online
Give in Person
Sunday Worship 8:00 am,  9:30 am,  &  11:00 am
Give by Mail

331 S. Cooper Road, Gilbert, AZ  8523
As you contemplate future contributions, please consider online giving. Should you have any questions on the process, please email Taleen Carpenter or call at the church office (480-892-9166).