Welcome to FIRSTKIDZ
We value each child and family that comes to First United Methodist Church of Gilbert!!  FIRSTKIDZ is a special place designed for kids from 6 weeks through 6th grade.  We believe each child is created to have a relationship with God and with unique talents and abilities to influence their world and community.  We are dedicated to helping each child become a deeply devoted child of Jesus!
We recognize that no one has more influence over a child than his or her parent.  Because of this, we believe that what happens at home is more important than what happens at church.  We are committed to partnering with parents by providing a plan that will give them the tools they need to support their kids spiritually.
We look forward to meeting your family!  
Please feel free to contact us at anytime with questions or suggestions: email Children's Ministry,
call or email the church office (480-892-9166).
Click Here for the Children's Registration Form

FIRSTKIDZ SundaySchool
9:30 am
Preschool-Kindergarten – Room 144
1st-3rd Grade – Room 205
4th-6th Grade – Room 203
Drop off and pick up in the classroom.

11:00 am
K-6 Room 205
Children are invited to attend the Contemporary Service (11am) sing and praise with their family and the congregation. They then will be led to Kidz Worship, they can be picked up in Room 205 after worship.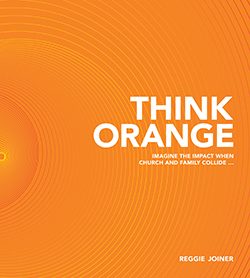 We believe the Bible should never be boring, good leaders always care, and worship can be really fun! Through weekly large group and small group settings, FIRSTKIDZ is designed to guide children to put their faith in Jesus.
Their weekly small group leader is focused on making these 3 truths stick:
I need to make the WISE choice,
I can TRUST God no matter what
I should TREAT OTHERS the way I want to be treated.
We use the First Look and 252 Basics curriculum from the rethink Orange Group.
---
FKParents
We want to partner with parents to strengthen all our families!
To connect with parents weekly we email the Parent Insider. In each issue there is information about what we are doing in FIRSTKIDZ, and topics about parenting.
Every Sunday we make available to parents God Time cards and the Parent Cue so that what we learn on Sunday can be taken home for Monday through Friday.
---
Classroom
Once you are in the classroom and greeted by your child's Small Group Leader, your child will be introduced to one of the classroom greeters. Classroom greeters will make sure that your child has someone to sit with and is part of the group activities. At the end of the service you will return to your child's classroom(s) and sign them out. Your child's Small Group Leader will make sure you have any parent information available.
The preschool classroom is in the East Education Wing. These classrooms are specifically designed for young children in mind. Please remember in order for your 3 year old to attend Pre-K3's they need to be potty trained and be 3 before August 31. In order for your 4 year old to attend Pre-K4's they will need to be potty trained and be 4 before August 31.
In an effort to maintain and provide a safe, loving environment for all children participating in activities on our campus here at First United Methodist Church of Gilbert, we have implemented Safe Sanctuary. Safe Sanctuary in part conducts background checks on all of our employees and volunteers who work with children, each classroom will be staffed with the Rule of 3 in mind. All classrooms will be clearly visible from the outside (blinds will not be  closed).  If you have any questions or concerns regarding these policies, feel free to email Sylvia Harris
 All Sunday School Students: Parents must fill out a registration form.
Wednesday Wilds
Kindergarten-6th Grade
Room 205
This month, our younger elementary kids will be learning about Paul and his ministry through building with Legos, crafts and exploring!

Youth
Room 200
This month, our older kids will be also exploring some bible stories and how it can apply to what is going on around them today.

Join us every Wednesday night for fellowship and a kids focused bible class. Come for a family dinner at 5:45 then send your kids to class at 6:30 while you enjoy an adult class!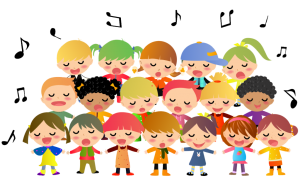 Children's Choir
10:30-11:00 am
Music Director's Office
Children ages 5-12


Choir meets each week between the 9:30 and 11:00 services for a time of singing and praise. We sing music appropriate to the age of the children as we explore what it means to be a Christian. In addition to songs by well-known composers of children's music, the children often write their own lyrics. Every 4 to 6 weeks, the group sings "in big church" to the delight of the congregation. The Children's Choir follows the school schedule with school holidays and summers off.
For any questions, please email Randy Van Der Pol or contact the church office: 480-892-9166 or secretary@gilbertumc.org
Summer Camp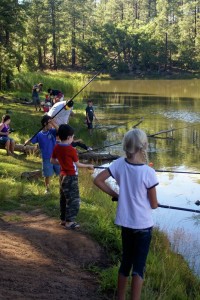 Established in the late 1940's, Mingus Mountain Camp & Retreat Center has nurtured and nourished generations of campers and families under its towering Ponderosa pines and night skies splashed with countless stars.   Since  its inception in 1947, Mingus' camps have been staffed by volunteers  drawn from the ranks of pastors, youth leaders, educators, and church  volunteers. In addition to its regular cycle of children's, youth, and  family camps, Mingus hosts local church retreats, school band camps, and  small group meetings.  Mingus Mountain United Methodist Camp is a beautiful mountaintop retreat encompassing 110 acres in Ponderosa pine forest. Located near Jerome, the camp is at the 7,700 foot summit of Mingus Mountain within the Prescott National Forest. Our rustic environment and open grassy meadow make the camp especially popular for youth and family oriented church camps. Our spacious new retreat cabins are ideal for adult groups too.
---
Summer Camps information is available!
For more information and cap schedule visit the Desert Southwest Conference Mingus Mountain Website
Cub Scouts
Cub Scouting is fun for the entire family – girls and boys, grades Kindergarten through Fifth grade!
No matter what grade you are in – it will be a blast. Do you like to learn by doing? This is just the place.  You can learn to tie knots, set up a tent, and shoot a bow and arrow (archery). Have you ever cooked a meal on a campfire?  Send a secret code to a buddy? Built a bird house? Play Ultimate? Hike? Earn rewards for doing these things in Cub Scouts.
As a Cub Scout, you will be part of your own den.  The pack is divided into smaller groups called dens. Each den has about six to eight scouts.  Girls and boys are in separate dens, to recognize developmental differences and encourage individual growth and learning.
All of the Cub Scouts in your den are in the same grade, but may go to different schools.  The Cub Scout pack belongs the First United Methodist Church of Gilbert through the Scouting Ministry. The Cub Scout Pack is open to all young people, regardless of church affiliation, culture, or background.  The Pack is committed to having good adult leaders (who go through background checks and mandatory training), a place to meet, and exciting things to do. The Pack gets help from the Boy Scouts of America, which is part of the World Scouting Movement.
Pack 88 is currently one of the largest traditional Cub Scout Packs in the Lost Dutchman District (Mesa, Gilbert, Apache Junction, and San Tan Valley).   Pack and Den meetings are held on Mondays or Tuesdays, depending on which den you are in.   Visit Pack 88 website for more details or email cubscouts@gilbertumc.org.
Boy Scouts
The Boy Scouts of America (BSA) is one of the nation's largest and most prominent values-based youth development organizations. BSA provides a program for young people that builds character, trains them in the responsibilities of participating citizenship, and develops personal fitness.
For over a century, BSA has helped build the future leaders of this country by combining educational activities and lifelong values with fun. The Boy Scouts of America believes — and, through over a century of experience, knows — that helping youth is a key to building a more conscientious, responsible, and productive society
Troop 88 is one of the largest traditional Boy Scout Troops in the Lost Dutchman District (Mesa, Gilbert, Apache Junction, and San Tan Valley) and has been serving youth for over 90 years.   Troop meetings are held every Mondays evening from 7:00 pm – 8:30 pm in the Church Activity Center.   Drop-ins and visitors are always welcome!
Visit Troop 88 website for more details!   For more information regarding Troop 88, please email our leadership team at scouting@gilbertumc.org.
Using the same curriculum as the Boy Scouts program, Scouts BSA is scheduled to launch in February 2019, enabling all eligible youth ages 11-17, to earn the Eagle Scout rank. Scouts BSA will be single gender – all girl troops or all boy troops. This unique approach allows the organization to maintain the integrity of the single-gender model while also meeting the needs of today's families.
The new Girls Troop is forming now!  Contact Philip Tesarek via email at scouting@gilbertumc.org or call 480-510-4588.  It is for girls ge 11-18 and will meet on Monday evenings at 7pm.  More informatin needed, check out the website at http://www.3088scouts.org.
Girl Scouts
In Girl Scouts, girls discover the fun, friendship, and power of girls together. Through a myriad of enriching experiences, such as extraordinary field trips, sports skill-building clinics, community service projects, cultural exchanges, and environmental stewardships, girls grow courageous and strong. Girl Scouting helps girls develop their full individual potential; relate to others with increasing understanding, skill, and respect; develop values to guide their actions and provide the foundation for sound decision-making; and contribute to the improvement of society through their  abilities, leadership skills, and cooperation with others.
There are several different Girl Scout troops associated with First United Methodist Church of Gilbert.  Troops from Daisy through Cadettes are currently meeting at the church, with the girls coming from all over Gilbert.  You do not need to be a member of the church for your daughter to participate in one of the troops.
For more information email our Girl Scout Coordinator at First United Methodist Church of Gilbert at girlscouts@gilbertumc.org.