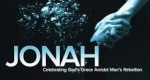 On Sunday we continued our journey together through  the book of Jonah, looking at the end of chapter 1, and all of chapter 2.  We saw that Jonah was thrown into the sea, at his request, because he knew that he was the problem.  He knew he was outside the will of God; that in fact he was running away from the very presence of God; that God was rocking HIS boat, and the rest of them were just innocent bystanders.  When he hit the water, the storm quieted, and the men on board the boat were safe.
But Jonah was in the sea, presumable far from shore, and his life was in imminent danger.  Sometimes we think of the big fish swallowing him as a punishment, but in fact in came to Jonah for his salvation, saving his body from drowning and giving him a chance to amend the relationship with his maker that he had broken – saving his soul.  The strange part of the story is how long he stayed in the belly of the fish before he did anything at all to escape:  three long days and nights in a dark and fishy stew, before he shifted his perspective, realized that he had been saved from certain death, and raised a psalm of praise and thanksgiving for this unusual salvation.  Immediately he was spewed out on to the shore.
The message for us:  if you're in the belly of the fish because you have turned away from whatever it is that God wants from you or for you (whether large or small), lift up your eyes to the One who made you, the One who loves you, the One who saves you, the One who will never let you go.  Lift up your eyes to God's perspective.  If he is calling you to it, he will see you through it.  Lift up your eyes.  Get out of the belly of the fish.
Be with us Sunday to talk about what life looks like once you do that.  Let's walk with Jonah to Nineveh and see what happens.
 
Blessings and Peace
Pastor Deborah