Jingle Jam Parents' Night Out
From

5:00 pm

to 9:00 pm
---
Register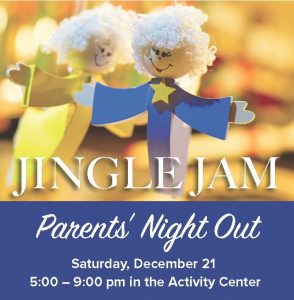 Jingle Jam Parents' Night Out
Saturday December 21
5:00 – 9:00 pm
Activity Center

With Christmas approaching, First Gilbert Youth is offering a parents' night out to benefit their 2020 youth mission trip to Chiloquin, OR.
Your kids will have fun with music, crafts, a bible story, and the movie "The Star" while you have time to shop for the perfect presents without prying eyes, a date night, or just to reimagine life without kids.
Food:
Each child should bring a sack supper. We will provide dessert and drinks.
Ages:
At least 3 years old and potty trained
Cost:
$15/child, family maximum of $45
To complete your registration please fill out the Form and then Pay Here. Choose Youth Ministries and put the names of the children registered in the box.
Register By:
Sunday, December 15
For any questions, please email Janet Bose or contact the church office: 480-892-9166 or secretary@gilbertumc.org
---
Registration Form