For a complete listing of activities at First United Methodist Church of Gilbert, please click here.
Worship With Us On Sundays

8 & 9:30am Traditional Services & 11am Contemporary Services

Nursery care is available from 7:45am – 12:30pm (all three worship services), staffed with professional care givers.  The nursery is located in room 131 & 132. 
 Special Upcoming Events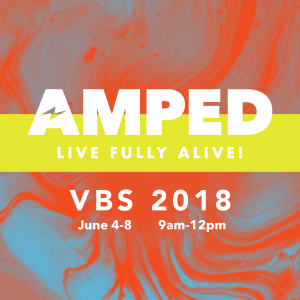 Vacation Bible School June 4-8 9am-12pm
Vacation Bible School (VBS) is a ministry outreach First United Methodist Church of Gilbert provides to educate children about God.  Children learn about Jesus through fun, age-appropriate activities.  Vacation Bible School helps children build a lifetime of memories and friendships.   Children will enjoy stories from the Bible, singing, crafts, games, snacks, and exciting skits.
Children ages 3 years (must be potty trained) through those entering 6th grade in the fall of 2018
You don't have to be a church member to attend VBS
$20 per child/$60 Family Max (Financial assistance available upon request)
Register here:  http://gilbertumc.org/vbs-registration/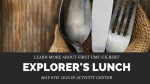 Explorer's Luncheon May 6th at 12:15pm
Would you like to know more about joining the church?  Please join us for a luncheon where we can learn more about each other.  For more information, please contact Sylvia at connections@gilbertumc.org.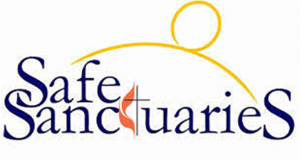 Safe Sanctuary Training
This is recurring training for staff and volunteers.  Please reserve your preferred session as seating is limited.  There are two upcoming classes Sunday, May 20th 12:30pm-2:30pm in Room 133 or Tuesday, May 22 6:30pm-8:30pm in Room 142.  For questions and RSVP please contact Sylvia at connections@gilbertumc.org.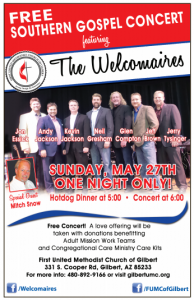 FREE Southern Gospel Concert 
The Welcomaires return for one night only, May 27th 2018.  Hot dog dinner at 5:00pm ($3/per person or max of $12/family) and then the concert begins at 6pm.  The concert is free!  A love offering will be taken with donations benefiting Mission Work Teams and Congregational Care Ministry Care kits.  All are welcome!