For a complete listing of activities at First United Methodist Church of Gilbert, please click here.
Worship With Us On Sundays

8 & 9:30am Traditional Services & 11am Contemporary Services

Nursery care is available from 7:45am – 12:30pm (all three worship services), staffed with professional care givers.  The nursery is located in room 131 & 132. 

Blue Christmas Service
As the decorations and celebrations of the season ramp up some of us are hurting with grief, health issues, or fearfulness of things to come.  If you are feeling blue, this Christmas service is preparing words and songs to comfort and give hope to your hurting heart.  Join us Thursday, December 20th 6pm – 7pm.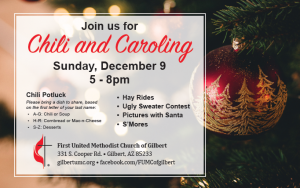 Chili and Caroling
Join us on Sunday, December 9th from 5pm – 8pm for this annual event!  Definitely one of the favorite events of this beautiful advent season.  There are hay rides, ugly sweater contest, pictures with Santa, s'mores and YES!!! yummy food and caroling.