Gilbert Feeding Families – Food Drive
From

7:00 am

to 7:00 pm
---
Register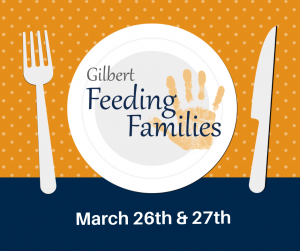 We need YOUR help due to the continuing impact of COVID-19 on the Gilbert community. The pandemic continues to impact a large number of people who need the basics, such as food, and a critical component of the food bank supply has been altered because of the lack of annual food drives and ability of grocery stores to donate.
We had great success last May – let's beat it this year!
The food drive collected over 120 bins of food = 85,000 pounds and $32,000 in cash donations! The food plus the cash helped provide 262,000 meals to the Gilbert community.
THANK YOU GILBERT!
2021 Gilbert Feeding Families Food Drive Flyer
Cash Donation
Every $1 you give can provide 5 meals for the hungry in Gilbert. You can make a cash donation online with any of the food pantries/banks below. (UPDATED LINKS COMING SOON)
United Food Bank
Open Arms Care Center
Midwest Food Bank
Matthew's Crossing
AZCEND
Vineyard Gilbert Food Pantry
---