CPR & AED
Cardiovascular Pulmonary Resuscitation and Automated External Defibrillator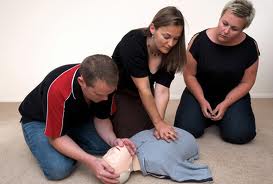 The American Heart Association's Emergency Cardiovascular Care (ECC) Programs deliver a dynamic message of hope — the hope of saving lives.  New treatments have improved the possibility of survival from cardiovascular emergencies, cardiac arrest, and stroke. These new treatments offer the hope of improved quality of life for people who suffer these events.  Increasing public awareness of the importance of early intervention and ensuring greater public access to defibrillation will save many lives.  ECC programs train more than 12 million people every year by educating health care providers, caregivers, and the general public on how to respond to these emergencies.
According to the American Heart Association:
Statistics show that the earlier CPR is initiated, the greater the chance of survival.
Over 70% of all cardiac and breathing emergencies occur in the home when a family member is present and available to help a victim.
CPR can buy extra time for your loved one, until professional help can arrive, by artificially circulating oxygen to the brain.
 What is CPR Training:
Guidelines changed in 2010 following much research. According to the American Heart Association CPR used to follow the ABC's: airway, breathing and chest compressions. Now, Compressions come first, only then do you focus on Airway and Breathing. The only exception to the rule will be newborn babies, but everyone else will get chest compressions before you worry about the airway.
What is AED Training:
Sudden cardiac arrest occurs when the heart stops pumping blood to the body.  This condition is most often due to an abnormal heart rhythm referred to as ventricular fibrillation.  A normal rhythm can be reestablished by providing an electrical shock to the heart.  An automated external defibrillator (AED) is a device designed to analyze the victim's heart rhythm and notify the user when to deliver a potentially life-saving shock.
Here at First United Methodist Church of Gilbert we offer classes throughout the year so that you are armed with CPR and AED training and are capable of helping those in need in our community and through out the world.   The classes held at the church are always taught by accredited instructors and are free for our Ushers and Teens; otherwise there is a nominal fee to take the class.