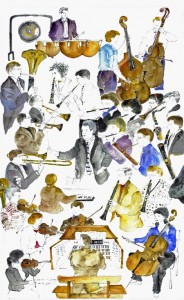 After several years of pre-planning, the time has come to form an instrumental ensemble.  There are MANY people in the church who have experience playing wind, brass, percussion, and string instruments and plan to give them an opportunity to use their gifts.  The initial plan is to meet every other week and to perform once every 6-8 weeks.
The first rehearsal will be Sunday, September 22nd from 2:00-3:00pm in the Sanctuary.
Please email Marty Province, Music Director, at  to let him know you might like to play.  Since the instrumentation will be "flexible", we want to make sure that we have parts for everyone to play.  Our goal is to involve all ages, including 1st year band and orchestra students.
Marty will create parts for players at all levels so everyone is welcome.