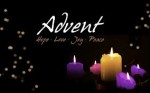 The first week of Advent involves Jesus foretelling his Second Coming. This will be an abrupt act of God which will occur without prior warning or notification: But about that day or hour no one knows, neither the angels of heaven, nor the Son, but only the Father (Matthew 24:36, NRSV). The scripture reminds us that we will all be involved in our ordinary daily routines: Then two will be in the field; one will be taken and one will be left. Two women will be grinding meal together; one will be taken and one will be left (Matthew 28:40-41, NRSV). However, the significance of the Christ's words lie within the final line of the lectionary text: Therefore you must also be ready, for the Son of Man is coming at an unexpected time.
Most of us are guilty of being more answerable to the world than to the Gospel of Jesus Christ. Kim Kardashian saying this is more important that Jesus Christ saying this. Simon Cowell saying this, seems to be more intriguing that the Apostle Paul saying this. We read the tabloids and the papers more than we read the scriptures. Our essential time is devoted to the television and the internet and not the worship of God. Are you and I ready for Christ's Second Coming? If not, how do we become prepared for it? Christ reminds us that we need to stay awake due to the unknown day and time of his arrival. We have to set aside time for prayer, scripture reading, and anything which allows us to be in constant contact with God. Failing to be deliberate with our spiritual lives translates to not being prepared for Christ's unknown arrival.  
In my ministry, I have had days in which I went to several meetings, traveled back and forth from my house to the church office and then to another meeting, and back home again. As I lay in bed that evening, I would say, "Lord, I have not spoken to you at all today." Consecutive days such as these can allow us to become numb, dormant, and completely void of any type of spiritual growth and transformation. I need to be reminded to stay awake and alert that Jesus will be coming back at an unknown date, place, and time, in order make essential time for spiritual transformation and renewal.  
The Season of Advent celebrates Christ's forthcoming presence in this world. Whether we celebrate with Christ at his Second Coming or whether we celebrate Christ coming into the world as a baby, we celebrate Christ coming into this world. It is my dearest hope that you and I embrace Advent in 2013 and that we prepare our hearts and minds for Christ's divine presence in our lives.  
Rev. David. J. Harriss