Church Information Updates
Renovations Walk through – 5/12/2020
---
Renovation Update – 2/4/2020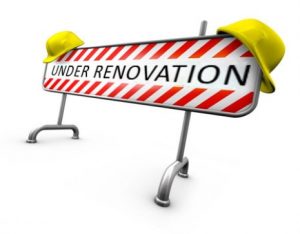 Renovations have begun at First Gilbert! All ground-floor meeting rooms and the northeast restrooms (near Room 133), will be unavailable until further notice. Additionally, work Rooms 201 and 202 upstairs. The church secretary will coordinate alternatives for those groups directly impacted. Please be on the lookout for signage in case your room has moved on the day of your meeting or class. All room updates can also be found on our church calendar
here
.
Starting this Sunday, Feb 9, the nursery will be moving to room 147 in the preschool courtyard for Sundays and Wednesday nights. Tuesday Morning nursery will be in the activity center.
We appreciate your understanding and flexibility and we hope you will like the result!
For any questions, please contact the church office: 480-892-9166 or secretary@gilbertumc.org
---
Renovation Update – 1/29/2020
Substantial renovations will begin this month at First Gilbert! This will create temporary inconveniences but will result in a campus that is more inviting and functional for worshippers, visitors, preschool families and the numerous groups that call First Gilbert home.
The first phase will occur February through March and will directly affect most meeting rooms, both music rooms, the northeast restrooms, the Nursery and portions of the Preschool. The church secretary will coordinate alternative accommodations for those groups directly impacted. We appreciate your understanding and flexibility – and we know you will love the results!
---
East Parking Lot Update – 12/12/2019
Reminder you can no longer use the east parking lot after December 26th. As the new builder demolition will begin December 26. You may see other demolition activities beginning sooner on the southeast portion of the land.
---
Congregational Meeting Document – 11/24/2019
---
Renovation Update – 11/10/2019
Review of FUMCG renovations and vision for improvements scheduled over the next six months.
Watch Here
---
"UMC-Next" versus "The Traditional Plan" discussion – 11/10/2019
Discussion of "UMC-Next" versus "The Traditional Plan" and the implications of both.
Watch Here
---
Meeting Slides – 11/10/2019
---
Information Meeting Notes – 11/10/2019