Weekly Events
Upcoming Events
Full Calendar
---
COVID-19 Update. In-Person Activities Cancelled!
Read the letter from Pastor Rick from March 17 here: COVID-19 Letter.
---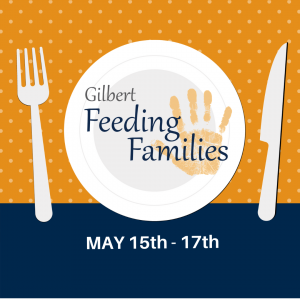 We need YOUR help due to the impact of COVID-19 on the Gilbert community. Recent events have created a large number of people who need the basics, such as food, and a critical component of the food bank supply has been altered because of the lack of annual food drives and ability of grocery stores to donate.
Please consider participating in this community wide food drive to help all of our food pantries and food banks to Feed the Families of Gilbert.
---
Vacation Bible School
July 13-17
9 am – 12 pm
331 S. Cooper Rd. Gilbert, AZ 85233
Children ages 3 and potty trained through 6th grade
Youth and adults are welcome as volunteers
$30 per child/$75 Family Max through April 30
$35 per child/$75 Family Max starting May 1
Register Here!

Vacation Bible School (VBS) is a ministry outreach First United Methodist Church of Gilbert provides to educate children about God. Children learn about Jesus through fun, age-appropriate activities. Vacation Bible School helps children build a lifetime of memories and friendships. Children will enjoy stories from the Bible, singing, crafts, games, snacks, and exciting skits.
Financial assistance is available upon request, please email children's ministries for more information.

---

Family Promise
August 16-23
331 S Cooper Rd, Gilbert, AZ 85233, USA

Sign-Up for Family Promise week August 16-23
Family Promise partners with over 30 interfaith congregations across the Valley to provide safe overnight shelter, food and compassion to families in crisis. As a partner congregation, FUMC of Gilbert will be hosting up to 4 families for a week a few times each year. We will need volunteers to set up and breakdown sleeping rooms, provide dinner, serve as an overnight host and do laundry. Please consider joining us to give these families the hand-up that they need to get back to self-sufficiency. To learn more about this life-changing program click here.
For any questions or to volunteer, please email DyAnn O'Brien, call or email the church office (480-892-9166).
---